NAA Apartmentalize - A Long View on Short Term Rentals
by Donald Davidoff | Jun 11, 2019 12:00:00 AM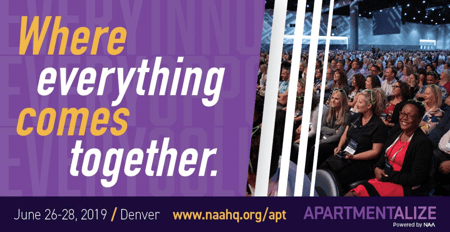 In just a couple of weeks, I'll be joined by industry veterans Melanie French, Steve Hallsey and Marcie Williams as I moderate a panel, "A Long View on Short-term Rentals" at NAA's Apartmentalize conference. I'm excited to further the conversation about a subject that is top-of-mind in our industry.
I still remember four or five years ago when Jaja Jackson from AirBnB first presented to an NMHC conference. To say the reception was a bit cold would be like saying the Pope is a bit Catholic. The Q&A session was one of the most aggressive I've ever seen; and when I spoke up to opine that I viewed short-term rentals (STRs) as just another demand stream to be understood and leveraged, I could feel the metaphorical daggers hurled my way by the vast majority of the audience.
My, how times have changed. While STRs represent a bit of a "wild west" world, the situation is substantially more professionalized than before with vendors such as Lyric Management and Sonder attracting nine-figure investments (don't be surprised if Stay Alfred announces a substantial investment as well). While some operators continue to disallow any form of STR, most have been experimenting and several embracing the opportunity. The inevitable future is now truly becoming the present.
Single name, many business models
Over the past couple of years, I've come to believe that one of the elements holding back faster adoption is that the term "STR" is used in a way that covers a wide variety of business models. This indiscriminate use of a single acronym for multiple approaches can confuse and even overwhelm decision makers who are, in any case, already making a decent profit and thus are not necessarily pushed to understand the space in more detail. To make matters worse, some models are mutually exclusive, while others can actually complement each other.
Here's a quick overview of six categories of STR business models in order from the highest duration of inventory commitment to lowest.
Specialist STR property management. In this model, operators lease units to a 3rd party who typically want 2-3 year leases. That party then rents out the units through various STR platforms (e.g., Airbnb, VRBO, HomeAway, etc.). The operator gets increased revenues, sometimes a premium rent, lower annual turnover and offloads the hassles and liability of STR operation. Well-known examples of this include the aforementioned Lyric, Sonder and StayAlfred plus there are myriad local entrepreneurial versions of this model
Pop-up Hotel. In this option, developers of a lease-up lease out a large number of units (typically 100) to a 3rd party during the lease-up. The 3rd party, in turn, operates those units as if they were a hotel, including assuring all regulatory and licensing requirements are met. The developer gets the benefit of realizing rental revenue more quickly (i.e., improved IRR) and mitigates absorption risk along with other benefits similar to the Specialist STR management model. The most well-known in this space is WhyHotel
Corporate Housing intermediary. Urbandoor has invented this model whereby they serve as a marketplace for bringing buyers and sellers of corporate housing into a technology platform. For all the concern about STRs over the past few years, it's important to remember that many operators have offered the "months-long" version of STRs through the likes of Oakwood, Execustay and others. Urbandoor is simply trying to disintermediate those providers the same way many travel providers have booking platforms to disintermediate travel agencies. Thus this model is distinctly different from all the other that are working in the "days long" STR arena.
Do it yourself (DIY) short-term rentals. With this approach, operators offer STRs directly to the public using one or more units. This gives maximum control and revenue while also introducing more logistical expense, headline risk and retaining primary liability. Operators can cobble together their own technology platform for this or use a purpose-built platform such as ApartmentJet (recently purchased by Expedia).
STRs as an amenity. In this fifth model, operators allow their residents to lease out their units in the STR market. With platforms such as Pillow (also recently purchased by Expedia) and the Airbnb Friendly Building program, operators can control the amount of sub-leasing allowed and receive a revenue share. Other advantages include attracting resident who can only afford the home by sub-leasing the unit a few days a month and providing a unique selling proposition against competitors who don't allow this.
Prohibit STRs. This sixth business model supports those who want to enforce a ban on STRs. Companies like SubletAlert.com provide alerts to operators to follow up on anyone violating their lease by attempting to sub-lease on one of the many public STR markets. While I certainly don't advise this choice (I recommend leveraging the STR demand stream, not fighting it), it's there for those who want it.
The concept of "STRs as an amenity" strikes me as having interesting implications for customer experience. It reminds me of the situation 20 years ago when few operators allowed pets (interestingly for many of the same reasons operators resist STRs: fears of liability, noise or other complaints and incremental expenses associated with this segment of demand).
Pet-friendly properties often received referrals from competitors for prospects they couldn't serve. Nowadays, of course, pet-friendly buildings are the norm; and operators control the risk (e.g., through breed restrictions and pet deposits) as well as get increased revenue from pet rent.
Join the conversation on STRs!
As you can probably tell, I have a keen interest in this rapidly-evolving sector, and I'm personally looking forward to chairing what promised to be a lively discussion at the industry's premier education event. So, If you're going to be at Apartmentalize in Denver in a couple of weeks, come and join the conversation. You'll learn more about the experiences these operators have and the rationale behind the decisions they've made about which models to use.
A Long View on Short-term Rentals will be presented at 12.30pm on June 26 in Denver at NAA Apartmentalize 2019 - Register now!