Blurring the Lines in Housing - FLEX 2019 Conference in Review
by Donald Davidoff | Oct 28, 2019 12:00:00 AM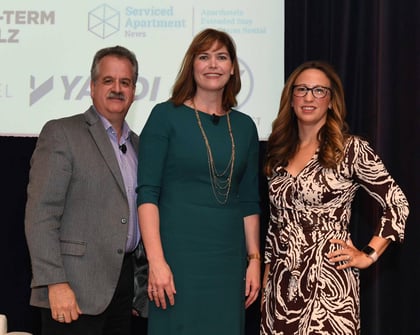 I just got back from attending the inaugural FLEX conference. More than 200 industry professionals spent a day and a half focused on the issues of short-term rentals (STRs) in this "first of its kind" event. Here are a few thoughts and recollections while still fresh in my mind:
1. Content was king! Kudos to Stephen Lefkovits and Dennis Cogbill for curating an excellent set of content. The content covered all angles, discussing pros and cons, finance questions, operational and service issues, regulatory challenges and more. Most importantly, presenters shared real-world scenarios, actual results based on data and generally gave the audience information they could take back to their offices and use.
2. The Lines are Blurring. If I were to sum up the conference lessons learned in one word, it would be "blurring." There's a blurring of lines. Housing is blurring with hospitality; vacation stays are merging with business travel, and vendors are combining to offer a range of overlapping services, etc. On the one hand, it's quite confusing as it's increasingly hard to label anything or keep our processes in neat metaphorical cubbyholes. On the other hand, it's incredibly exciting, posing many opportunities for those who can embrace the increased uncertainty/risk to expand and optimize the use of space.
3. PRM was Center Stage. I was pleased and proud to launch the conference by moderating a workshop on revenue management in the STR space. Joined by Tiffany Baker of show sponsor Lyric and Elizabeth Winkle of STR (formerly Smith Travel Research), we explored a wide range of subjects. We started with an overview of the six basic STR models. After then discussing how the market is changing and the size of the opportunity STRs present, we presented real-world case studies of the NOI lift Lyric's MFH partners were getting from each of their business models. We got a look into the results of STR's benchmarking results from a beta test in Nashville, and we also reviewed two case studies of the Pillow homes model. We closed with a peek into how Lyric does its own revenue management.
4. The New Pet Rent. If you're wondering how STRs might be the 2019 version of pet policies in 1999, check this out.
5. A Rapidly Maturing Sector. It feels like we're now past those initial stages where many people react viscerally against the new idea, while others hype it to the point of non-reality. Presentations had a sober reality to them, emphasizing that not all communities are right for STRs and the importance of communication with residents. There were real-world examples of the issues that must be addressed in the terms and conditions of any master lease and the limitations and opportunities concerning local regulations (obtaining hotel licenses, etc.)
6. Innovation is Rife! The range of technology innovations is staggering. We saw operating results from Niido, learned more about how smart home technology is solving the building access problem and saw how noise meters can play a critical role in reducing one of the biggest STR risks. Whatever your concern, there really is an app (or other tech solution) for that!
7. Demographics are Destiny. I found some of the demographic insights surprising. The younger the adult, the more likely they are to use STRs, and females are more likely to use STRs than males. The former may not be surprising, but it drove home to me how comfort with STRs looks set to rise over time, much as the aforementioned trend in pet-friendliness played out. The gender-bias surprised me a bit though I candidly am not sure what action to take as a result of knowing about it.
While a few companies may still be saying, "not just 'no' but heck no," it's clear to us at D2 Demand that to get industry-leading NOI, operators will have to decide how much to bring STRs into their segment and channel mix. That may not mean going "all in," but it definitely means something more than zero!