Five Hot Takes from NMHC OPTECH
by Dom Beveridge | Nov 15, 2019 12:00:00 AM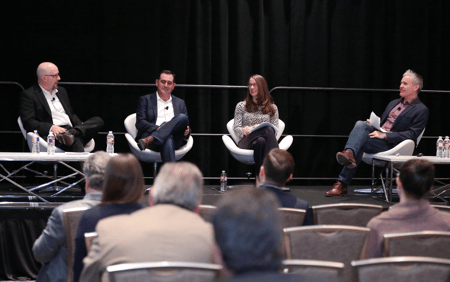 I think it was probably a record, and by some distance. A whopping 2,300+ attendees were registered for NMHC OPTECH, and it made for a busy, busy show. It will take us some time to decompress, organize and reflect on the many learnings and insights. While we do that, here are a few instant reactions from the show.
Self-tour is HOT!
Attitudes to several key technologies are quite different this year compared to a year ago. Nowhere is this more apparent than self-tour. Last year, as we interviewed operations and technology leaders for 20 for '20, we were surprised at the push-back against this exciting and impactful technology. While the range of views remains wide, the tide has clearly turned.
You might say that self-show has officially taken the place of short-term rentals as the hottest topic in the industry, as evidenced by the standing room only crowd at the "Cage Match" session on Tuesday. Several companies who are experimenting with self tours shared their experiences, which ranged from working with the tech solutions to running manual tests with their on-site staff handing out keys. The panelists shared their excitement about the initial success and stats they've seen thus far, and it seems set to grow in 2020.
"Space as a Service" is Gaining Ground in Multifamily
There was some discussion of companies monetizing their common area spaces and are using results and interest to inform future builds. It seems that the days of the leasing office being the keystone of a multifamily building (taking up the best corner location) are numbered. Developers are focusing on spaces that can have multiple uses, including walls for projectors and movable furniture. As pricing geeks, we are, of course, intrigued by how companies are pricing this additional space.
Now is a Great Time to be a Proptech Startup
One only had to take a quick look at the trade show floor and the quality of the swag at this event to appreciate the money being lavished on sales and marketing by a seemingly ever-expanding startup vendor environment. Today, not only are investment dollars abundant, the approach to investment - as we have discussed in these pages - has changed.
This was the subject of Wednesday's panel, "Partnering with a VC Firm on PropTech?" with Kurt Ramirez of 94 ventures and Alec Paige of RETV. The discussion focused on the reasons why property managers and owners are increasingly getting involved in technology investment funds. Stability of portfolio companies and the opportunity to learn from a community of peers were among the most compelling benefits to participating companies.
Another interesting idea was that the investment firm - with its research capabilities - is the "first line of defense" in the selection process. There are a lot of providers for any given solution today, so as funds evaluate many proptech companies they take much of the leg-work and a significant amount of the risk out of tech evaluation for their members. Another interesting idea was the case where portfolio companies' needs are misaligned with those of the platform providers on whose data and technology they often depend. In these (infrequent but still important) cases, the community of investors/customers provides a potentially useful escalation path.
Revenue Management is Hotter than People Think
As I mentioned in my pre-show post, I was delighted to host the first Pricing and Revenue Management (PRM) session at OPTECH for some years. A show of hands at the start of the session revealed that only one person in the audience was a technology leader. This was unsurprising, given the finding of our 20 for '20 white paper, which was the premise for this panel: PRM has fallen off the technology and operational leadership radar.
But as we discovered in this lively panel, the confluence of relatively inexperienced staff (anyone under 32 has never experienced a downturn), investors and market conditions provide both risks and opportunities to revisit processes and skills. Ben Vega, SVP of analytics and optimization at Remington Hotels, shared insights into the state of the art of hotel PRM, an industry that has never considered PRM to be "taken care of" the way MFH operators often do...and this despite having a 15-year head start on MFH.
The discussion unearthed many parallels, e.g. the "direct booking war" where hotels compete to bring bookings directly to their websites, is reminiscent of the interplay between multifamily operators and ILSs. Another good example is recession-beating early renewal strategies that have much in common with hotels' negotiation of airline crew and other group contracts. Some key differences emerged, most notably in the arena of technology innovation, where hotel chains (like Marriott, Hilton and IHG) are firmly in the PRM technology business, competing with a host of solution providers in an ever-changing environment that most multifamily technologists would surely envy.
Don't forget the people!
An interesting session on process automation reminded us of a truly critical success factor among all the exciting technology: people. Rachel Davidson of Alliance addressed the change management of all of their automation rollouts, including making sure internal customers were aware that tech was being rolled out in response to their specific requests, helping them to understand the "why", while teaching the organization how to give constructive feedback, beyond more conventional comments like "it doesn't work". Collaboration is a game of give and take, after all.
Before leaving the subject of people, a word for the "Cupid Shuffle" - the audience participation part of a lively final keynote by Cynthia Marshall, CEO of the Dallas Mavericks - which will live long in the memory. Her lively session about diversity, equality, and inclusion left the audience with food for thought, and one aphorism about inclusion: "You can't just invite them to the party, you have to ask them to dance."
As usual, we thank the organizers for an excellent and record-breaking event, and we look forward to OPTECH 2020, which will take place in Las Vegas next November.