The Year They Put the "Innovation" into AIM
by Dom Beveridge | May 8, 2019 12:00:00 AM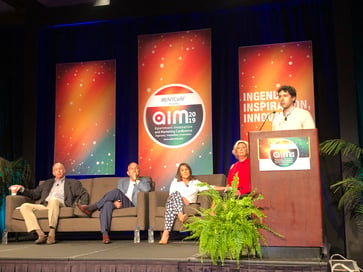 Early May has long been the time of year for multifamily marketers to head to Orange County, CA for AIM. As convivial networking opportunities go this event can't be beat, which explains it's impressively growing audience of both owner/operators and sponsors.
This year, though, the focus of this long-standing event has changed. What used to be the "Apartment Internet Marketing" event is now the "Apartment Innovation and Marketing" conference. It's a subtle change, but the program is different from previous years, moving beyond marketing and into a broad environment of technical innovation of which marketing is but one component.
What is it with innovation?
Yesterday began with a fascinating panel combined two venture funds – RETV, headed by John Helm and Nine Four Ventures, with General Partner Kurt Ramirez – and two of their partner operators, UDR (represented by its President Jerry Davis) and Laramar (represented by Faith Aids). The session provided deep insight into the changing ecosystem of tech providers, a subject that we covered recently in these pages.
In describing the Nine Four's philosophy, Kurt described the attractiveness of the space. Real estate is the biggest sector of the economy. The perception of residential real estate is changing, as renters increasingly see their home as an experience rather than a product and generally aspire to an asset-free lifestyle. Such a large, fast-growing and evolving market should lend itself to disruptive innovation, but it isn't as simple as that.
Kurt described a common headwind: multifamily operators are generally geared towards doing what they do a little better. That's different from investing in disruptive innovation, which requires companies to have the ability to test, implement and change new products and services. The way that operators buy technology is also challenging for startups as long decision processes often take more time than a startup has runway. But these factors have finally led to a change in the industry's approach to innovation.
Partnerships like RETV and Nine Four are – as Faith Aids put it – an exciting juxtaposition of major trends, as fast-moving technology meets slow-moving real estate. By bringing professional fund management, deep industry expertise and potential referenceable clients together with cutting-edge technology, a new ecosystem is established that provides operators a path to innovation and innovative companies a surer path to success.
Self-Show is Gaining Traction
As we have argued, the industry is missing a trick with self-guided tours. Yesterday we ran a session with single-family leader, Progress Residential, where we learned more about their successful test and implementation of self-guided tours. The general discussion of this service innovation this week at AIM suggests that self-show is gaining momentum in multifamily.
During yesterday's session, Jerry Davis outlined UDR 's impressive smart home and self-show projects. On Monday we heard from Taylor Wiederkehr of BH Management and Shawn Mahoney of GID/Windsor – two leading technology innovators – on their self-show initiatives. The session began with a poignant question: "who isn't doing anything with self-show because it's scary?" People laughed – perhaps it's not just us who think the industry is holding back!
Taylor shared BH's objectives of embracing new technologies and driving consistency. Their considerable investment in making properties smart and connected is making it relatively straightforward to organize virtual tours. The anticipated benefits lie in enhanced prospect experience and – crucially – in the insight that the tour will yield to leasing professionals who will know what the prospect did while they were in the building.
Both panelists agreed that their companies will benefit from leasing agents spending more of their time engaging with people who want to be engaged with, rather than touring people who are generally less well-qualified. My favorite insight of the session came from Shawn, who shared that Windsor were seeking to get quickly to the point where self-show is useful (which he defined as "extending the hours available for touring) and that more sophisticated technology will be layered on after that.
Through our discussions, we have found many multifamily companies whose aim is to perfect the curated tour before they attempt to implement self-touring at all. That has always sounded like the wrong focus – why not figure out how to organize a tour first and deal with curatorship later? It was refreshing to hear both of these technology leaders advocate for pragmatism.
More Love for 20 for '20
Finally, one round of innovation that we got to be directly involved in was yesterday's panel session discussing our 20 for '20 study. The organizers of AIM graciously invited us to share the findings of our study in a session: "The Technology Investment Outlook – 2020 and beyond". We were joined by Lisa Trapp, an SVP with Sequoia Equities, who provided insight into the decision process for new technology projects.
Using the example of a short-term rental project at one of Sequoia's properties, Lisa provided a good example of the way that operators must strive to demonstrate ROI to get a project over the line. It brought home the reality of one of the main findings of 20 for '20 – i.e. that often-underrated gap between evaluating new technologies and bringing them to fruition.
The most compelling new technologies can still fall foul of ROI hurdles or myriad other considerations that exist to safeguard businesses. We thank the organizers of AIM for facilitating the discussion about innovation and the business reality within which it can sink or swim. That it continues to take place by the beach with an ever-growing and enthusiastic audience is a bonus for which we can all be grateful!
The Apartment Innovation and Marketing conference (AIM) is taking place in Huntington Beach, CA until Wednesday, May 8th.