What One Firm's Daily Stand-Up Tells Us About 2021 Renewals
by Dom Beveridge | Mar 9, 2021 12:00:00 AM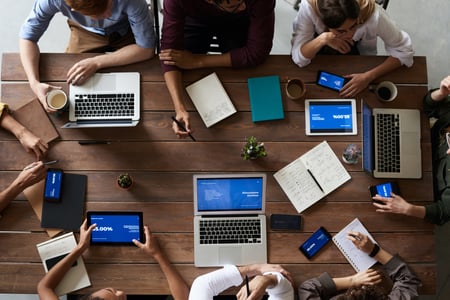 As revenue management people, we at D2 naturally bias toward strategies and tactics that optimize top-line performance. For the last year or so, we have focused on the strategies that operators have used to navigate the choppy waters of the pandemic and the downturn that it has caused. But as we researched the 2021 edition of our 20 for '20 white paper, we were struck by one company's unique approach to handling lease renewals.
Renewals Don't Often Get The Attention They Deserve
Readers of our blogs and white papers, viewers of our industry webinars and recipients of in-person presentations and training will be familiar with our views on lease renewals. To summarize what we have said at length elsewhere, renewals account for more than 50% of any community's annual revenue. They consume neither expensively procured leads nor time-consuming tour and follow-up activities, so a greater share of that revenue filters through to net operating income.
But revenue management and sales processes, technology and mindset are overwhelmingly focused on new lease pricing. We were inspired, then, to hear the story of one operator's reaction to the pandemic and the impending economic downturn. The firm in question is a fast-growing, dynamic midwestern owner-operator. Without the deep revenue management experience and processes of a larger company, their focus gravitated immediately and decisively to avoiding attrition.
The Parable of the Daily Renewals Stand-Up
While all operators recognized the importance of renewals early in the recession, this operator's commitment to avoiding attrition was so strong that they instituted a daily stand-up with the entire management team (even the COO and CEO were both on the call). The stand-up's purpose was to ensure that every day, every community was doing everything that it could to ensure that residents with expiring leases did not move out.
The focus of senior management attention on this specific issue yielded some important results. It aligned the activities of properties to the senior management agenda. It increased the urgency of all follow-up activities and the proactivity of communications with residents whose leases were expiring. And it improved renewal rates to an extent where the calls continued on a daily basis three months into the pandemic.
The commitment of executive time and energy to renewals and the results that it appears to have achieved beg the question: "Why didn't more firms do this?" Subsequent discussion with some of the other participating companies revealed that one large fee manager had created a "Head of Renewals" position within their revenue management team. In that case, the purpose of the role is to deliver consistent processes and ensure that a point of contact is always available for any resident wanting to discuss their renewal offer. Others created or put more attention on various forms of renewal trackers. But few had as much C-suite attention on renewals as this operator.
As revenue management people, we are strong advocates for revenue management technology and analytics. While vendors have made some improvements to renewal pricing analysis and administration, there is more to renewals than that. The stress test of the pandemic reminds us of the importance of operational consistency in the renewal process.
Just as an ounce of prevention is worth a pound of cure, the relatively modest investments that operators make in training negotiation skills and shoring up communication processes can pay rich dividends at renewal time.
Performance held up remarkably well in 2020, including renewal rates, for the most part. But as the restrictions enforced by the pandemic begin to lift and leasing season unfolds, we may come to find that 2020 renewals are more of a 2021 problem. Revenue managers should pay heed to this company's story as they rebuild performance and drive toward growth in 2021.
This blog summarizes one of the findings from this year's 20 for '20 research, based on 20 conversations with senior multifamily leaders. Download your free copy to see the whole picture of 2020 and the outlook for this year and beyond.