Another Big Week in Multifamily Smart Home Technology
by Dom Beveridge | Jan 27, 2021 12:00:00 AM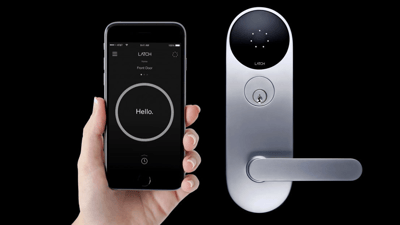 Regular readers of this blog will be familiar with our interest in Smart Home/Smart Building technology (along with most forms of multifamily proptech!) Unsurprisingly, then, we are excited about this week's big story in multifamily technology: the news that leading smart building provider, Latch, is set to become a public company.
There are a few reasons why this news is particularly noteworthy for followers of multifamily technology. First the nature of the deal: Latch will become a public company through a merger with a Tishman Speyer-sponsored SPAC (Special Purpose Acquisitions Company). SPACs (aka "blank check companies") are an increasingly popular means of raising IPO capital, so it is unsurprising to see this type of deal emerging in proptech.
Next, the price: the transaction values Latch at an impressive $1.56bn, a strong endorsement of both the company and this market segment's long-term attractiveness. It will also substantially increase the resources available for Latch to fund the next stage of its development. And finally, this transaction is the latest in a series of large capital events affecting multifamily smart home tech providers, suggesting that the sector is maturing.
What a difference a year makes
A little under a year ago, we wrote, in our 20 for '20 white paper, both about smart home technology's rapid progress and some operators' concern that the space was over-crowded with vendors. We also noted that the adoption of smart building would be different from previous enterprise multifamily technologies because IoT implementations involve putting physical equipment into properties. The risk of picking the wrong horse and the relative immaturity of many providers weigh heavily on the decision process.
In the 11 months since we published that paper, several important changes have happened involving some of the sector's leading providers. In May 2020, SmartRent closed a $60m funding round, with Amazon among the investors. A few months later, RealPage announced that it was to acquire Stratis IoT, integrating IoT technology into one of the industry's most comprehensive operating platforms. And now the news about Latch further validates this space and equips another leading player with the resources to fuel more aggressive growth.
Why COVID is a tailwind to smart building tech
As we noted last year in the white paper that we wrote in collaboration with SmartRent, COVID has driven a huge uptick in demand for smart technologies. It's true that the industry was already excited about the transformational possibilities of the internet of things before the pandemic changed everything. But as quarantine increased the need for self-show, and residents demanded curb-to-couch access for deliveries and services, many operators decided that the time for smart building technology had come.
Now I don't want to steal the thunder of the 2021 edition of 20 for '20 (which is due out next month), but you will not be surprised to learn that the impact of COVID is a strong and consistent theme in the research. It seems clear to us that companies are thinking differently about how they should interact with residents and prospects.
Many are re-imagining what parts of the resident and prospect experience can be technology-enabled and the types of technology that should become commonplace across multifamily communities. John Helm of RET Ventures put it well, during an interview with Matt Slepin on Leading Voices in Real Estate. When asked about major disruptive changes on the horizon, he said, "We're getting to that crest point where the technology is getting deployed to the point where people are going to be able to start operating their portfolios differently."
Smart building technology looks set to become ever-more prominent in the way that buildings are designed and operated, and numerous vendors now have the financial resources to realize their visions of the future. We at D2 look forward to writing extensively about this exciting sector through 2021!